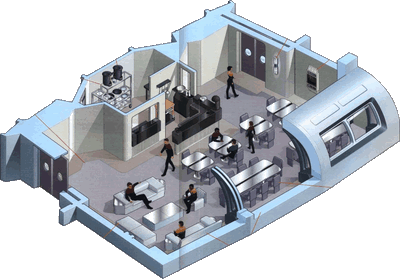 Summary
The ships main communal dining area. There are other smaller versions of the ships mess located on other decks, however the large mess on Deck 7 is the main communal dining area on board the Valhalla.
Additional Information
Location: Deck 7
Description:
Usually host to meals and socialization, the Mess Hall is one of the largest and most popular spaces aboard the ship. It is host to an open kitchen that operates from 0700-1830 hours, whose civilian cooking staff offers a menu of varying day-to-day specials. If the menu doesn't suit your taste buds, there's nothing to fear - the replicators work 24/7.
The Mess Hall is a versatile space that can easily be converted into an extra space during crises. A triage center, an expanded sickbay, temporary housing for refugees, extra storage, or a command post are just a few of the Mess Hall's auxiliary functions. It is also used for more relaxed functions, such as a space for crew performances, ceremonies, receptions, and lectures.