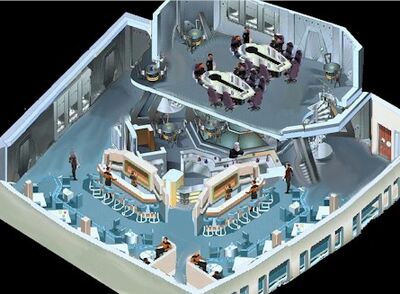 Summary
This is the main lounge aboard the U.S.S. Valhalla.
Additional Information
Location:   Decks 4 and 5
Description:
Mainly a gathering place for the crew during off-hours, the Elysian Fields lounge can at times be used for official functions, such as weddings performed by the captain. 
The main level on Deck 5 features two bar areas with tables and bar seating. A small kitchen provides light foods and snacks. There is also a large area with various games and other activities available.
The upper level which is accessed via a stairway up from the main level or from its entrance on Deck 4 is used almost exclusively by Senior staff for relaxation or casual meetings. It is also often used for different ceremonies and receptions.
Like the mess Hall, this space can easily be converted into an extra space during crises. A triage center, an expanded sickbay, temporary housing for refugees, extra storage, or an emergency command post are just a few of the Elysian Fields auxiliary functions.
The Elysian Fields usually operates between 1000 hours and 0200 hours.