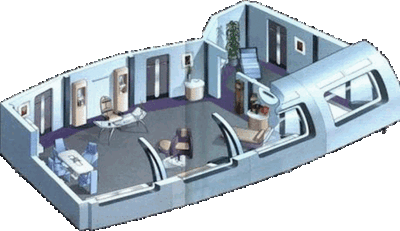 Location: Decks 2 and 3
These quarters are reserved for VIP's as well as the ships Captain, Executive Officer and Marine Staff Officers (Commanding Officer and Executive Officer). 
Accommodations typically include a work space with an integrated LCARs terminal, a dining area with a table that can seat 4 - 6 people, a food replicator, a couch, a chair, a daybed and plenty of space for personal effects. The bedroom area features another small daybed, a Queen sized bed, and a large dresser. A full bathroom is included with a wash basin, mirror, several drawers, loo, sonic shower and a bath tub. Pets are allowed and provisions can be provided.